$

19.95
The Blood & The Rose – DVD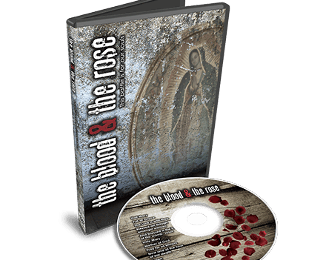 Rent the film ($4.99) or Purchase it ($14.99) by using Vimeo On Demand at https://vimeo.com/ondemand/thebloodandtherose
ABOUT THE FILM:
On December 9, 1531, the Blessed Virgin Mary first appeared to Juan Diego, an ordinary man of extraordinary faith. Juan Diego humbly embraced the call to serve as a Messenger Eagle. Today this apparition is known as "the Virgin of Guadalupe." The beautiful miracle of that day is chronicled in this story that begins with Mary's faith filled yes. This eternal struggle of good versus evil is the battle for our souls.
A feature length theatrical documentary shot on location in Mexico and Spain, The Blood & The Rose offers riveting interviews with top experts in the fields of science, history and theology, exploring the mystery of St. Juan Diego's Tilma and the miraculous image that it bears.
More than just a story about a distant event, The Blood & The Rose - directed by Timothy Watkins (In the Face of Evil) with Executive Producer, Steve McEveety (The Passion of the Christ), and narrated by Eduardo Verastegui (Bella, For Greater Glory) - is an invitation and a calling to emulate St. Juan Diego in our own day, carrying the message of the Virgin of Guadalupe – Patroness of the Americas and Patroness of Life – into the culture in which we live.