$

15.00
Confronting the Reality of Evil – Study Guide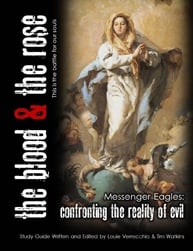 Our objective in this study guide is threefold:
1. To examine the reality of evil, the person of Satan, and the duty we have to engage in the spiritual battle as understood in the light of Catholic teaching.
2. To consider the all-too-human reaction to evil, the fear and doubt that are born of weakness and how we must overcome it.
3. To reflect more deeply upon the life and example of Our Lady's messenger eagle, St. Juan Diego, a model of humility whose faith-filled yes to the Virgin of Guadalupe's call opened the way for the Light of Christ to shine in a culture shrouded in the darkness of evil.
At the conclusion, we will emerge from the pages of this, the second part in our series study guides, better prepared for battle and ready to rush with childlike trust into the maternal embrace of she who said, "Understand that I have many to whom I must entrust the delivery of my message and the fulfillment of my will, but it is you in particular who must plead my cause…"